Fan Speed Optimiser wins prestigious Low Carbon Achievement of the Year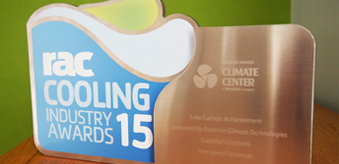 The judges pored over large and small projects, as well as technologies and in the end decided the wide applicability of Guardian Controls's product should grant it the top prize. Here's what they had to say:
"An excellent example of a simple, easy to install retrofit unit for cold rooms. There's a large number of cold rooms in the UK and the use of Fan Speed Optimiser across these sectors could deliver substantial carbon savings"
The RAC Cooling Awards champions leading innovations and environmental successes in the refrigeration and air conditioning industry.
RAC is the leading source of industry news, information and analysis for the refrigeration and air conditioning industry.
For over a century, RAC has provided decision makers with unrivalled coverage of the latest technical innovations that drive this sector.