Fan Speed Optimiser
The Guardian Controls Fan Speed Optimiser (FSO) has been specifically developed to reduce the direct and indirect energy used by single phase evaporator fan motors in cold and freezer rooms.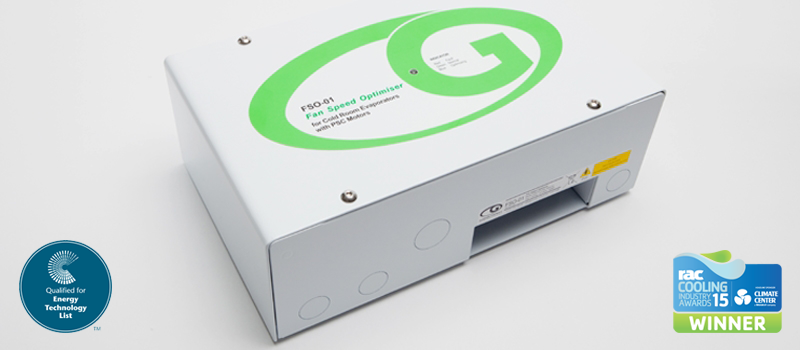 Product Detail
The FSO continually assesses the conditions within the room and optimises the fan speed accordingly without detriment to the product temperatures. The optimisation delivers a direct energy saving, as less energy is consumed. There's also an indirect energy saving; as less residual heat from the motor enters the room, which would otherwise need additional cooling. For every 1 Kwh direct energy saved, there is an additional indirect saving of 0.8 Kwh for PSC/Shaded Pole and 0.35 Kwh for EC Motors.
Key Benefits
Successfully launched 2014.

5000+ were installed with major supermarket groups during 2014.

Significant direct and indirect energy savings of 36% with a short payback.

Quick and easy retrofit, less than an hour to install.

Non-intrusive, no cold room access required.

System independent and compatible with existing control equipment.
Features
Verified average savings of 36% of the energy used by evaporator motors.
Suitable for new panels and retrofit.
Compatible with both PSC/Shaded Pole and the more efficient EC motors.
Onboard energy and data logging accessed by integrated display.
Tri-state LED indicates current fan speed status.
Door signal input to lower fan speed on door opening.
Optional Ethernet comms for remote data logging.
Options
FSO-01 – Fan Speed Optimiser (Retrofit for PSC/Shaded Pole Motors).
FSO-02 – Fan Speed Optimiser (Panel Mount for EC Motors).
FSO-03 – Fan Speed Optimiser (Retrofit for EC Motors).
IPM-04 – Optional Ethernet Comms.
Use in Conjunction With
Guardian Controls Door Sentry
Installs good door policy and saves energy.
Audio alarm if door is left open unnecessarily.
2 additional inputs, default 'man trapped button' and 'gas sensor'.
FSO can utilise door open/close signal from the Door Sentry.
Options for wall mount and panel mount.
Retrofit and new applications.