E636 Case Controller
The Guardian Controls E636 is a refrigeration control unit for supermarket display cases and cold/freezer rooms.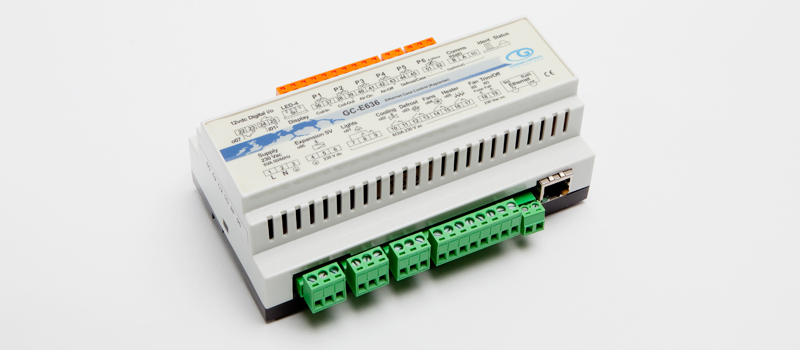 Product Detail
Energy efficient control of temperature, lighting and defrost for a single supermarket display case with electronic expansion valves. The E636 delivers superb energy saving superheat control and precise control on a proven platform. Core product hardware and software with additional options and ancillary products. Communication via Ethernet TCP/IP, SNMP or RS485 Modbus.
Key Benefits
Superb energy saving AKV10 superheat control

Communication and remote update via Ethernet

Real time scheduled defrosts & automatic lighting schedules

Battery Backed Real Time Clock, optional
Features
5 x temperatures per case; Air On, Air Off, Coil In, Coil Out & Defrost or Product.
1 x 4-20ma input.
5 x 3A relay outputs; Fans, Heaters, Defrost, Lights & Solenoid.
1 x SSR 230vDC0.5A for AKV10 valve.
Supports PT1000 and thermistor probes.
Real Time Scheduled Defrosts with selectable termination.
Options
GC0101 – E636 (RS485).
GC0102 – E636 (RS485 & RTC).
GC0104 – E636 (RTC).
Suction pressure superheat control.
8A, SSR Dew Point Trim Heater Control.
Ancillary
GC0120 – LED4 Display.
GC0131 – 4m Display Cable.
GC0152 – SKF3 Engineers Keyfob.
GC0500 – E636 Control Kit.
E636 controller kits available for all options (E636, LED4, 4m cable & connectors).